The US Federal Aviation Administration (FAA) is undertaking what The Washington Post calls the "extraordinarily complex" task of transitioning the country's air traffic control system from a radar-based to a GPS-based aviation control system.
In November 2014, the FAA announced the first deployment of its Next Generation Air Traffic Management System (NextGen) in North Texas.  The benefits of the transition, which are already being realized, includelower fuel consumption, more efficient and direct routes, andbetter departure times.
The NextGen system will transition US air traffic control from primarily analog voice communications to digital data connectivity. This network will revolutionize air traffic control, vastly improving route efficiencies, cutting fuel consumption and significantly increasing safety.
Comsearch, a CommScope company, provides spectrum management, software and data solutions to the wireless market, is involved with two aspects of NextGen. We have supported the deployment of the Automatic Dependent Surveillance–Broadcast (ADS-B) system, and more recently, we are on the Harris team supporting the Data Communications Program.
I am proud to share that Comsearch Government Solutions won the Partner Excellence Award from Harris Corporation for the services provided in support of this project.
A Comsearch team is responsible for drive testing ground sites at major airports, conducting data analysis, generating reports and following up with the Harris/FAA team.  Harris issued the Partner Excellence Award to Comsearch Government Solutions for a variety of reasons, including:
Our ongoing scheduling flexibility when conducting the ground station site surveys
Our proactive communications to help remain within cost, schedule and performance parameters
Our clear commitment to continuous process improvements to reduce invoicing, workload forecasting and process obstacles
Congratulations to the Comsearch team involved in this important work and thanks to Harris for recognizing them. It is great to be recognized for performance excellence, especially on a critical, high-visibility project like NextGen. Look for more announcements about successful roll-outs at major airports and the improvements that NextGen is sure to bring.
About the Author
Brian Downs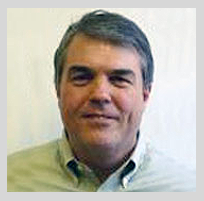 Brian Downs serves as the director of Comsearch Government Solutions. His group performs wireless engineering and RF field measurement services for the Defense Spectrum Organization (DSO), Army, Air Force and the Federal Aviation Administration (FAA). Brian has more than 25 years of experience in the wireless industry and has been involved in many aspects of commercial and federal government spectrum engineering since joining Comsearch in 1989. Brian earned a bachelor degree in electrical engineering from the Georgia Institute of Technology.