– THIS PROMOTION HAS EXPIRED –
Comsearch's premier microwave planning software is available half off during the month of November.
Fully-functional iQ·link Solo edition for ANY number of microwave links!

Perpetual license pricing—license is yours to keep forever!
Up to 250 links: Usually $2,450 per user … November 2021: USD $1,225 per user
Unlimited links: Usually $4,950 per user … November 2021: USD $2,475 per user

Pricing includes email-only support and upgrades for 3 months (typical response within 1 business day)
FREE support is available in our

Online Discussion Forum

(response times not guaranteed)
Full-time, personalized, expert Technical Support is available for an additional annual fee, which is dependent on the number of users supported
FREE Oracle XE database provided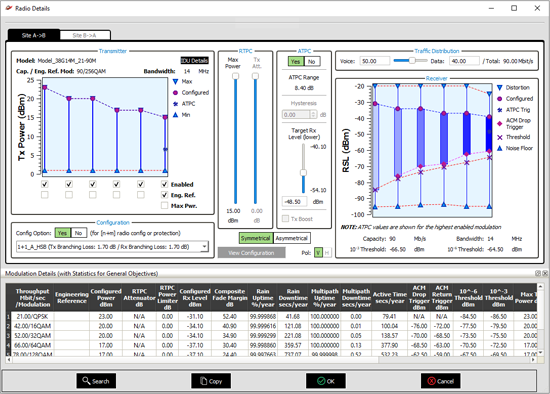 How to Buy:
Simply fill out this form and choose iQ·link Solo to begin the purchase process.
iQ·link Solo is for Standalone installations on Windows PCs.
Try it for Free! Fully-functional iQ·link Solo Edition Free for up to 25 links.
—Great for software evaluation and small projects.
New in iQ·link Version 10!

Modernized User Interface and True 64bit engine with 30% performance improvement

Link Templates for streamlined link creation

Highly Intuitive Graphical Configuration of ACM Radios

Radio Data Import with comprehensive data validation (formats: iQlink XLSX / PathLoss RAF)

User interface for easy Import/Export of links and Bulk Network Upgrades

Support for E-Band Planning including Multi-Band Link Aggregation

ITU P.530-17 Design Algorithm / ITU-R P.837-7 Rain Rate Model

Path profiles export with 3D Fresnel Zones for Google Earth

Automatic Rain Rate selection based on the Crane City Model (for the US Market)

Frequency Coordination Request Submission directly to COMSEARCH (for the US Market)

Automatic calculation of temperature and climate factor from maps for the Vigants model (for the US Market)
A Note for Users in the United States: iQ·link can be used to design microwave links globally. In addition to the design features, iQ·link offers a powerful intra-system interference calculation (analysis between your own links). However, iQ·link is not intended to facilitate or replace the FCC Part 101 process for frequency coordination in the licensed and shared frequency bands. Please click here for more information on the FCC Part 101 coordination process.
Export Restrictions: The Software is subject to U.S. export laws and regulations, and You agree not to export the Software in violation of those laws and regulations. You agree not to install or use the Software in any country where applicable law requires the Software to be in a language other than English unless You have been provided with a translation.