Special WISP Pricing!
CommScope's Certified Professional Installer (CPI) Training for CBRS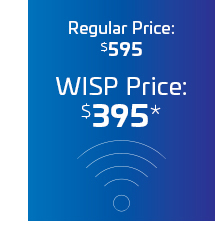 CommScope's WInnForum-approved CPI training is a self-paced online course that covers the entire CBRS ecosystem including terminology, concepts and CPI requirements. The course takes up to four hours to complete depending on your level of familiarity with CBRS. After completion, trainees can take an exam to test their knowledge and obtain a certification.
Learn more about this practical CBRS CPI Training course.
The regular price for this course is $595, but for WISPs it's just $395! Please note this offer will end after December 31, 2019.
To receive your promo code, fill out the form below or contact us at customersupport@comsearch.com.
Request a Promo Code:
We're sorry. This promotion has expired.