We are living in an era where we are learning to share in new, creative ways and making better use of our resources. Lyft, AirBnB and other sharing services use verification and accountability systems to give users the assurance that those strangers we are letting into our cars and homes can be trusted.
The U.S. Federal Communications Commission started looking into this type of sharing long before it was trendy and fashionable.  First, there was TV White Space. Then, based on a report from the President's Council of Advisors on Science and Technology, the FCC got the idea that it could open for sharing one of its major resources and a seriously under used asset: the 3.5 GHz band (3550-3700 MHz).
The 3.5 GHz band is the United States government's "Miami Beach condo" that has been sitting locked-up, unused for the most part. Historically, this band has been reserved mainly for the Department of Defense, which uses it for U.S Navy radar operations. Specifically, the Navy uses this band for ship-borne radar, which typically operates offshore.
The FCC recognized that commercial users could get access to the 3.5 GHz band as long as they could avoid interfering with the Navy radars by vacating the channels when radar operation is detected. In April 2015, the FCC established the Citizens Broadband Radio Service (CBRS) for shared commercial use of the 3.5 GHz band. This is 150 MHz of prime spectrum that can be used by mobile devices, fixed wireless networks, 5G and IoT (Internet of Things) gadgets.
CLICK TO TWEET:  Ride Sharing, House Sharing, and Now Spectrum Sharing
To offer perspective on the scale, currently each U.S. nationwide carrier holds about 130 MHz of mobile broadband spectrum on average, according to Comsearch's Spectrum Atlas. Of course, this is if we define broadband spectrum as mobile bands below 3 GHz out of 719 MHz of total licensable spectrum in the United States.  So, the 150 MHz offered by CBRS is no studio apartment, it's the entire penthouse floor.
However, not all of 150 MHz will be up for sale through bidding as is done with traditional spectrum. Only 70 of 150 MHz will be auctioned on Priority Access License (PAL) basis. The remaining 80 MHz will be available for General Authorized Access (GAA) for anyone that is willing to play by the FCC's rules. In other words, cellular spectrum available completely free of charge, for anyone that can make good use of it.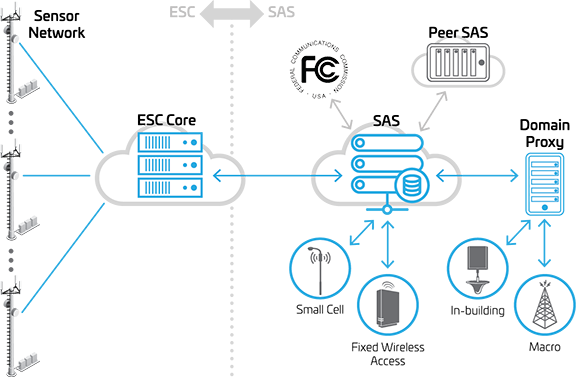 How will the FCC make sure all these renters and free guests won't trash the condo and will vacate it pronto when it needs the place for its own use? The role of implementing the FCC's rules around spectrum sharing will be performed by Spectrum Access System (SAS) administrators certified by the FCC.
The SAS will ensure that every CBRS radio, known as a CBSD (Citizens Broadband Radio Service Device), that transmits in this band complies with FCC Part 96 rules for sharing spectrum. To protect against interference with Navy radar, the SAS will be connected to a network of sensors called Environmental Sensing Capability (ESC). The ESC network will monitor for Navy radar operation and will alert the SAS when it detects activity. In such an event the SAS will coordinate the CBSD transmit levels and channels to ensure that no harmful interference is caused.
CommScope's Comsearch team, which has more than 40 years of experience in spectrum management, is one of the leading providers of cloud-hosted SAS and ESC systems.
If this experiment in sharing spectrum succeeds, and all indications are that it will, then it will open the door to sharing of several other frequency bands, which will spawn more innovation and many more interesting applications.
Sharing is not only caring, it's efficient, smart and it makes economic sense.
About the Author
Mark Gibson
With close to 30 years of spectrum management experience, Mark Gibson is responsible for developing domestic and international business opportunities for Comsearch, a CommScope company. In addition to leading Comsearch's business development efforts for AWS, 700 MHz and TV white space products and services, he has led efforts to address spectrum sharing between the federal government and commercial users. Mark has authored several papers on spectrum sharing and relocation and has advised numerous wireless participants in their system design. He has spoken worldwide on spectrum management and related issues. Mark earned a bachelor of science in electrical engineering from the University of Maryland.