February 23, 2017, ASHBURN, VA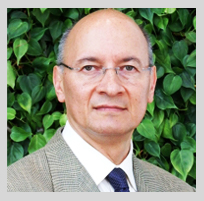 One of Comsearch's most accomplished technology professionals, Dr. Saúl Torrico, has been named CommScope Fellow, the highest level of recognition for the company's engineering and technical employees.
Saúl joined Comsearch (a company that became part of CommScope via acquisition) in 1985, and is currently a principal scientist, directing efforts in research and development in the areas of radio wave propagation and system design pertinent to mobile communications systems, terrestrial microwave communications systems, and mobile satellite systems. In his role, he provides EMI/EMC subject matter expertise on several government contracts, engineering support services for the Defense Spectrum Organization Joint Spectrum Center, and consulting services to wireless communication carriers for planning, designing, implementing and optimizing their networks.
An internationally recognized expert on radio wave signal propagation, spectrum engineering and analysis, Saúl has published more than 20 peer-reviewed articles, conference proceedings and book chapters. Among his many industry leadership positions, Saúl is a senior member of the IEEE Antenna and Propagation Society and the Geoscience and Remote Sensing Society, and serves in the United States delegation to the International Telecommunications Union's Radio Wave Propagation group.
Fellow is the top level of CommScope's engineering technical ladder, the company's official structure for professionally honoring and rewarding its engineering and technical employees. This prestigious title is reserved only for those who have made highly valuable technological contributions to the company over a period of many years and it is also recognized across the technology industry.
---
Q&A with Saúl Torrico
What does it mean to you to have been named a CommScope Fellow?
Saúl: First of all, I would like to express my heartfelt gratitude to CommScope for awarding me the fellowship, in particular to Chris Hardy, Brian Downs, Kurt Oliver and Kevin Linehan for their support and for presenting my name as part of the award. There is nothing more gratifying than being recognized by your fellow colleagues. Personally, I have three additional motives for appreciating the award, first it recognizes the example, guidance and efforts of my parents; it recognizes my wife Lourdes for her understanding, love and encouragement throughout my career; and finally, it recognizes my teachers. Outside of high school, the notion of teacher is very relative and is quiet often applied by a formal criterion. But I believe the title of teacher could only be given to those who have made the greatest impact on your work and whose example you have followed. My father, Professor Roger Lang, and Professor Henry Bertoni were precisely these kind of teachers for me. I feel, in a sense, that I have justified their caring attitude toward me.
What career achievement (patent, design, project, etc.) are you most proud of?
Saul: I am most proud of contributing to the field of radio wave propagation and that the company is recognized in this field. I am proud that I was able to share my knowledge with my co-workers at the office and with students from different institutions where I was able to teach either in the US or abroad.
What about being in a technical field do you find most fulfilling?
Saul: Science (basic or applied science) is an important component of our culture and contributing to it is extremely fulfilling for me. As we know at CommScope, in applying science, many technologies are developed and that makes the company special in our community and society.