Attend This Conference Focused on the Auction of CBRS Priority Access Licenses
This one-day highly-focused event takes place steps away from the FCC and in the heart of the communications policy and regulatory center of the nation. Use this opportunity to network with CBRS thought-leaders, technology suppliers, experts in shared spectrum technology, as well as the legal and regulatory experts with years of experience in spectrum auctions and transactions. Whether or not your company is planning on participating in Auction 105, the feedback and insight you glean from the speakers, demo partners and other attendees at the workshop will help add to your body of knowledge with regard to Auction 105 and the broader utilization of 3.5GHz spectrum … learn more.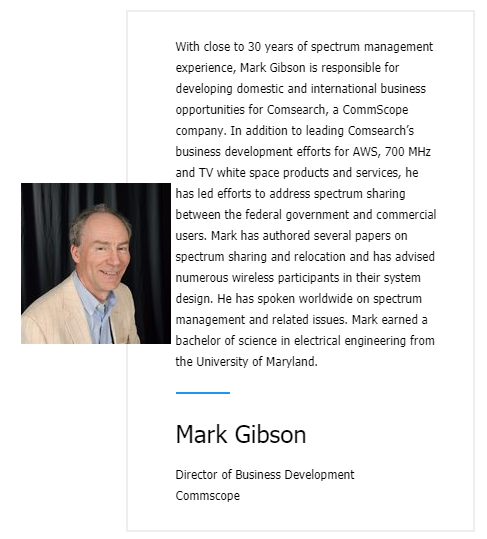 Comsearch's Mark Gibson will be a featured speaker:
The Secondary Marketplace: Opportunities and Expectations for a Vibrant Post Auction Marketplace
Wednesday, 3/11/20 | 2:30 pm EST | 20 F Street, NW Washington, DC 20001
The FCC has noted that it expects the potential for many thousands of leases in the 3.5 GHz Band, due in part to the flexibility afforded by partitioning and disaggregation facilitates, and the small license area. The licensees enable operators to be directly responsive to market demands for particular types of services, in specific geographic regions. So, what does this marketplace look like? How will it evolve? Will a robust digital exchange emerge to manage the complexity and volume of license transactions?
Richard Bernhardt, Spectrum Advisor, Wireless ISP Association
Mark Gibson, Director of Business Development, CommScope